I am so digging the link up thing!
Trista has a great one today. Top Ten Workout Songs! I have to HAVE my music when I run. It is not optional. During my half last week I messed up my playlist really bad and it ticked me off. So here is what I am listening to right now: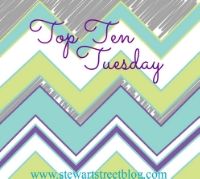 1. Bad Romance by Lady Gaga (my ultimate most favorite song to run with EVER).
2. My Songs Know What You Did in the Dark by Fall Out Boy (Light em up, up, up)
3. Girl on Fire by Alicia Keys (my personal anthem)
4. We are Young by Fun (heard it on "Glee" back in 2011, loved it right away, still love it)
5. It's Time by Imagine Dragons (The lyrics so apply to my journey right now)
6. C'mon by Ke$sha (I dare you to not sing/dance along while listening to this one)
7. Anything Can Happen by Ellie Golding (another find from "Glee")
8. I Love It by Icona Pop (has a great retro 80's vibe and it is fun to shout along with)
9. Sound of Madness by Shinedown (run angry)
10. Just Like a Pill by P!nk ( run just as fast I can to the middle of nowhere, to the middle of my frustrated fears-when I am really stressed this song helps me center).
So there you go!