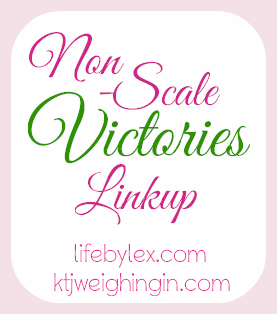 I hate the scale, I really do. I let it define my mood every.single.day. at least for the first 30 minutes of my day. Most days once I get off the scale and move around the house, look at my size 12s and my wardrobe of non-maternity clothes I feel encouraged.
This morning that lying whore scale swore I had gained 2 more freakin' pounds yesterday...not sure that is even possible. I let her make me feel bad, grabbed some 14s and tried to find a suitable outfit for work. I was NOT happy with what I had picked out to wear. I was afraid to put on my size 12s because of the scale. However, I was running out of time to be on time to work. I grabbed my new size 12s khakis and guess what? They still fit-not even tight at all. Take THAT you skank!!!
That was a BIG NSV for me. The second one happened during my morning hall duty. The size 00 teacher comes by with a box of doughnuts and do I eat one? Nope, did I want one-just a little. I had already eaten my breakfast so I wasn't hungry. I am trying very hard to eat only when I am starving. NSV#2!
My third NSV for this week was my husband telling me how "tight" my backside is getting :)
Happy Thursday!