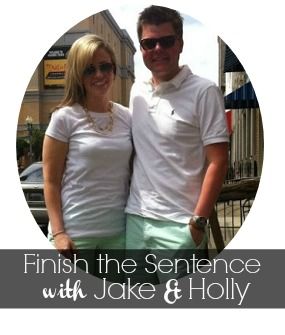 That awkward moment when you realize your last post, was the last "FTS" link up. Oh well...here goes:
My happy place is anywhere without children, laundry, or dirty kitchens.
Whatever happened to Christian Slater? I mean the last thing I remember seeing him in was "Interview with a Vampire" or am I just that out of touch?
So what if I wear Crocs. My feet hurt and they are sandals at least. The hubs threw out all my other ones.
E! needs a reality show about nothing at all. I hate reality shows, except "Duck Dynasty"-wait, is "Ink Master" a reality show?
My go-to fast food meal is an 8 count Chick-Fil A meal with a side salad (fries, I mean waffle fries) and two things of Chick-Fil A sauce.
You might not know that I really enjoy a filthy, dirty rap song. If I can shake my booty to it-it's all good
J
The hottest quarterback in the NFL is....a tie between Aaron Rodgers (the State Farm commercials kill me!) with that grin, those eyes, and those dimples and RGIII he has a killer smile and the man looks like his arms and legs could have been chiseled by Michaelangelo. I am sucker for biceps.
If I could...turn back time (and now you are singing along with me).
My personality is awesome because I am fierce and loyal to those I love.
Twerking is a chiropractor's dream. I can only imagine the amount of spinal damage done by people attempting to try it.
I think it's super gross when people chew with their mouths open.
Someone needs to tell Miley Cyrus they are called "squats" honey and you need to do them every.single.day. My 37 year-old booty looks better than hers! It's a disgrace to young women every where, I imagine her trainer is so ashamed.