I have missed "So What Wednesdays" for two weeks now. I like this link-up because I really feel like I can let my personality show. I tend to tone it down in the blogosphere and I am not sure why. I am pretty sure I have developed some kind of stalkerish crush on
Jake's
and
Holly's
blogs, so when I saw that were writing 24 things about themselves. I had to steal the idea (and add it with my so-whats)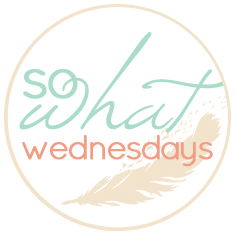 1. So what if I am tired of vapid and shallow people (and their blogs and their Instagram pics...) you can only see so many hair and make-up tutorials before it all starts to sound the same. I hate wearing make-up.
2. So what if I hate wearing make-up but I am obsessive about moisturizing, seruming, and exfoliating. If you have pretty skin, you don't need that much make-up.
3. So what if I wear the same shade of lip gloss I wore in college. I am pretty sure that I am responsible for Clinique never discontinuing their Almost Lipstick in Black Honey.
4. So what if I drink almost 2 liters of coffee a day?
5. So what if I haven't cooked dinner in almost two weeks? No one in my family is anywhere near starvation and my kitchen has been so nice and clean.
6. So what if I hate make-up but stockpile samples and bonuses from three different make-up companies in addition to selling Mary Kay? Call me a hypocrite.
7. So what if I think my in-laws are the greatest thing since sliced bread? They raised an amazing man that I married and they are awesome grand parents. Wish I could say the same thing about my mother...
8. So what if I hate lingerie? I could care less about thongs and push-up bras. I do not ever want my husband to buy those things for me.
Now for #'s 9-24
9. I like to eat chips on my sandwich, not with but piled right on top of the cheese like lettuce. My favorite is ham, cheddar and Nacho Cheese Doritos.
10. I love super cheesy movies/musicals from the early 80's-"Xanadu", "Girls Just Want to Have Fun", "Rock and Roll High School", and "Annie". I can quote every.single.line.
11. I have an unnatural obsession with Ke$sha-I would totally love to hang out and party with her.
12. I am on the NTSB's watch list. My luggage gets "randomly" selected for screening every time I travel and I always get the body scan. The good thing is that I never have to pack neatly. I just toss everything in my suitcase and let them straighten it out :)
13. I do not like Judd Apatow movies. I think they suck, except for "Bridesmaids" that one was funny.
14. I get sad every time I look up at the sky and realize that the Space Shuttles will never fly again.
15. I still love The Dixie Chicks.
16. I don't understand Twitter, even though I was one of the first people to sign up for an account more than five years ago. I had Twitter before I had Facebook.
17. I can't have dirty dishes in the sink when I go to bed.
18. Odd socks are my nemesis and I will hunt them down.
19. I put mayonnaise on my eggs, not Miracle Whip or Kraft Mayo-it has to be Hellman's or it isn't right.
20. My odd man crush is Russell Brand. He's funny and that's enough for me.
21. I never want Lance Armstrong to have anything good in his life ever again. He left his wife for Sheryl Crow, then left her when she had cancer. Karma is a bitch Lance....
22. I still want to try out for the Dallas Cowboy Cheerleaders.
23. I have no desire to read "50 Shades of Grey".
24. I am pretty positive that I am going to receive my letter to Hogwarts any day now.......