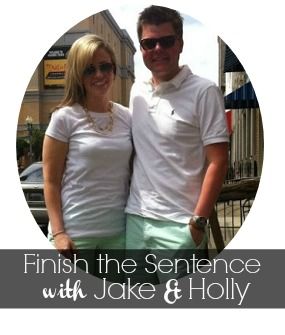 Finish the sentence Christmas Edition!!!
I guess the only time I am ever going to blog is when Holly and Jake do this link up!
1. My favorite Christmas was when I was 6 years old and got my first bike without training wheels-banana seat and all!
2. The worst Christmas I had was in 2002 when I was divorcing my husband and trying to figure out how to make Christmas special for our son.
3. That one gift that made me scratch my head and say, "Hmmmm" was the bizarre comforter set my current husband bought for me one year (turquoise satin with orange Aztec print, anyone?) and it was ridiculously expensive.
4. One year I decided it would be a good idea to make apple butter, salsa, peanut brittle, peanut clusters, and spice mixes for 50 people.
5. I think the worst gift to give is something someone wants for themselves.
6. At Christmastime I typically I hate everything and everyone until school is out and then I get all happy and rush around wishing I wouldn't have waited until the last minute.
7. Typically, family Christmas is so stressful I wish I could go on a cruise-by myself.
8. If I could change one thing about the Holiday season it would be my family's never ending desire to buy gifts for everyone.
9. It is so hard to buy for my mother.
10. My favorite Christmas tradition is on Christmas Eve I fix cinnamon toast and make hot chocolate from scratch and we watch "Elf".